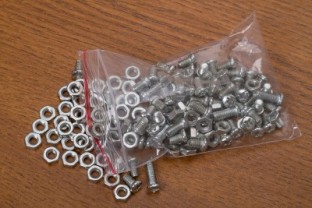 If you think a polyethylene bag is just a plastic sandwich bag, think again! Today's poly bags, as they are technically called, come with a wide range of features that make them adaptable for much more than food – making them a can't-live-without item for every home.
Types Of Poly Bags
Gusseted poly bags have expandable sites and fitted bottoms so they can actually stand vertically while holding items. There are high-clarity bags, flat bottom bags, bags that repel moisture and static, thick versions that won't easily tear and bio-degradable types that help the planet. Some poly bags are even semi-transparent so you can label them with a permanent marker, most are re-sealable, and they all come in a variety of sizes.
If that's not enough, many protective bags combine these features into custom poly bags. So if you really need a high-clarity, gusseted, bio-degradable poly bag, it's probably out there.
Great Household Uses
With just a little creativity, you'll discover a wealth of ways to use poly bags at home. Here are just a few.
In the kitchen:
Gusseted and poly bags are a great alternative to hard plastic containers for things like cereal, chips, and other every-day pantry items. They take up less room in your cabinets and have some "give" that allows you to fit a lot of them on one shelf. If the bags are high clarity, you can see what's in them more easily than with plastic holders, and moisture resistant poly bags will keep foods fresh.
In the garage:
Heavy duty poly bags work well for workbench items like washers and screws. If you work in an area with high humidity, place tools inside the bags to protect against rust.
In the bathroom:
The possibilities are endless: organizing and storing make-up, brushes, jewelry, travel size toiletries, cotton swabs and cotton balls. And reclosable poly bags can even be used as gloves in a pinch when dying hair.
For the kids:
Do your kids have lots of little parts for their games or toys? Minigrip poly bags are ideal for storing those small pieces inside the game box or in a drawer or closet.
For music and games:
Substitute those hard CD cases with static-resistant poly bags (one CD per bag to prevent scratches) and you can store more disks in the same amount of space. Anti-static bags are also great for storing the small games used with hand-held video game devices.
Start Getting Organized
Now is a great time to get organized in new and better ways. Remember: If you can use it in your house, you can probably store it easily, safely, inexpensively and in a poly bag!