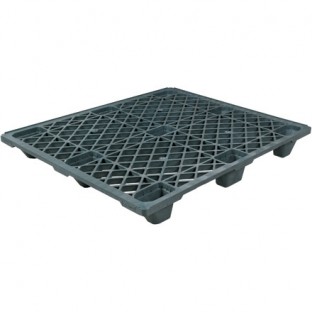 Successful packaging starts with specific attention to individual items, providing proper insulation from impact and the correct degree of puncture resistance.  As packs are built-out into master cartons and retail display units, care is taken to reinforce product protection during each phase of package assembly.  For trouble-free shipping, the same principles must be applied all the way up the line to pallet-level packaging.
Keeping items secure and contained remain the primary goals for packing pallets, with the help of tools and products designed specifically for pallet applications.  While packaging requirements are unique depending on what you are shipping, essential features lead to the best results transporting pallets.  Shipments destined for warehouses, club stores and other retail outlets are held snuggly in-place using proven pallet-building techniques starting from the base-layer, working upward.
Corrugated Deck Pads and Edge Protectors
Soundly constructed pallets start with firm bottom-layers, provided by several varieties of corrugated material, which also serve to separate pallet layers.  Single, double and triple-wall strengths allow products to be stacked on pallets, including machinery and appliances protected by the hardiest three-layer varieties.
Anti-slip kraft paper pads provide additional friction against movement, keeping items in-place until you want them moved.  Economical white cardboard varieties serve lighter-duty uses, while specialized honeycomb sheets contain voids adding superior protection between layers.
As pallet layers are built-up, edge protectors are fitted at the corners, aligned with corrugated pad liners to create continuity across the entire pallet. Edge protectors run various lengths, depending on how high your pallet is to be built. And printed versions carry messages for handlers, like "do not double stack".
In addition to corners, pallets are reinforced where strapping comes into contact with box edges.
Strapping Supplies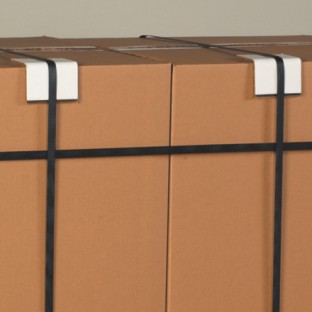 Once stacked and wrapped, pallets are secured using heavy-duty strapping techniques.  Steel, polyester and polypropylene strapping provide various levels of security, keeping pallet contents in place during handling.
Strapping guards and protectors are used to reinforce contact points where poly and steel straps meet cardboard and other materials subject to strap damage.  Using the proper tensioners and sealers, strapping is tightened to appropriate levels, cut and sealed for shipment.  On the receiving end, strapping shears are used to cut steel bands.
Stretch Wrapping Options
Another commonly used method for holding pallet contents in place is to stretch them securely using plastic films.  Various film widths and thicknesses serve specific uses ranging from general wrapping to enhancing puncture resistance.
Stretch wrap is applied by hand, or by machines, each approach requiring particular materials for the best results.  Colored films allow shippers and receivers to coordinate freight using color schemes, and opaque varieties keep contents out of sight during transit.  Additional specialized wraps include anti-static versions capable of reducing static charges during shipment.
Clear and black materials are standard, with tinted varieties available for specialized applications.  Vented and blown stretch film assist with food applications, where air circulation is required, as well as adding further puncture resistance to irregularly shaped loads.